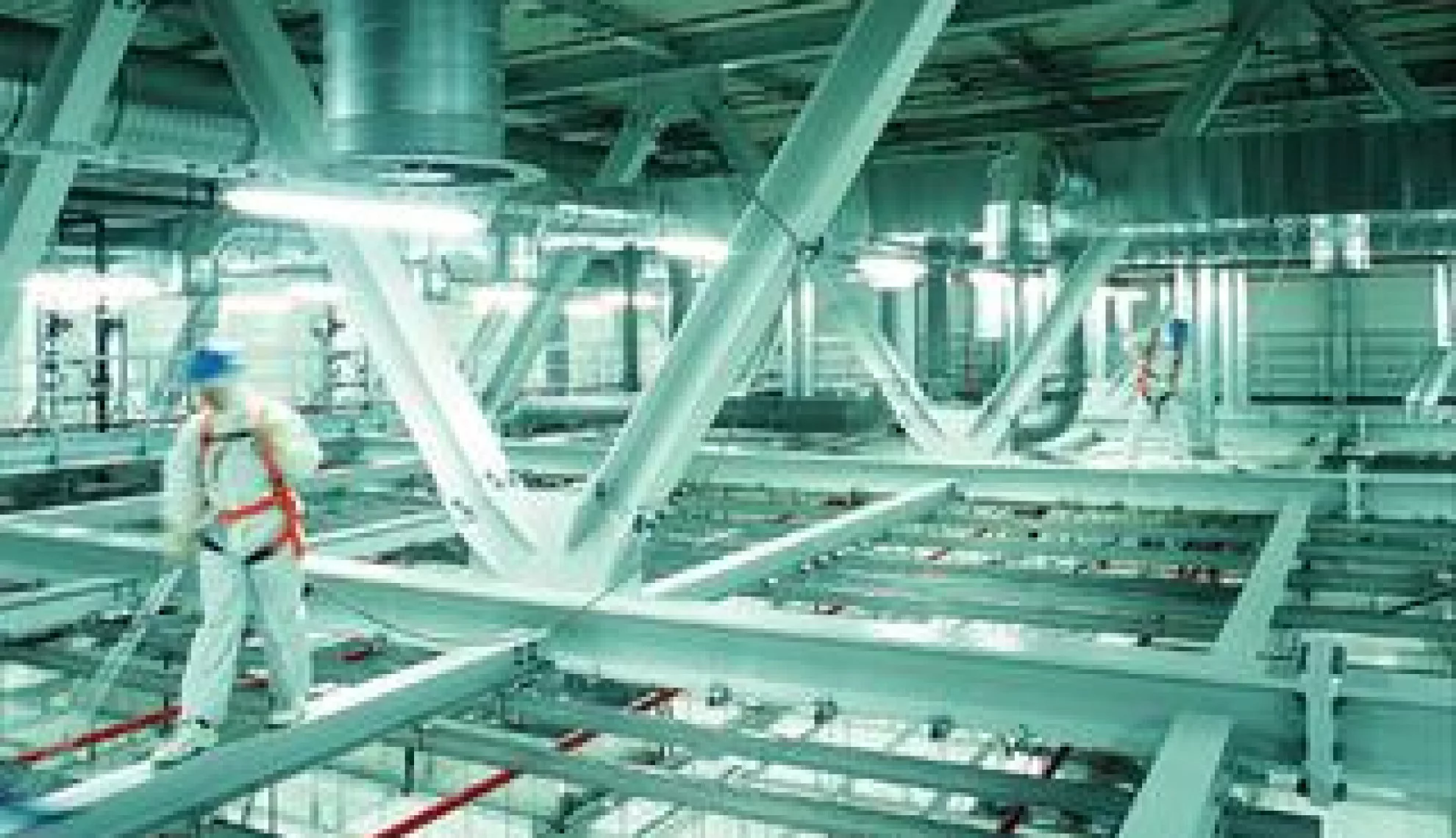 Centennial Anniversary Marks a Continued One-Stop Service
M+W Group recently celebrated 100 years of providing technology-related construction solutions for international clients
Writer Emily Jarvis

Project manager James Mitchell
M+W Group is the leading global engineering, construction and project management company in the fields of advanced technology facilities, life science and chemicals, energy and environment technologies and high tech infrastructure. From concept development to turnkey services, the company manages projects of all sizes ensuring rapid realisation, high quality standards and cost-effective completion. With its competence to link process and automation technologies and complex facilities to integrated solutions, M+W Group primarily focuses on leading companies in the fields of electronics, photovoltaics, life science, chemicals, energy, automotive, security, IT and telecoms, as well as research institutes and universities. 2012 was an excellent year for the company, generating an order intake of €3.58billion and a revenue stream of €2.38billion, in addition to celebrating its 100th anniversary; growing from a small outlet in Germany, into a major international player.
M+W Thailand are a significant player in M+W Group. They are a major global international company providing a full range of consultancy services; from project inception through to concept design, site selection detail design, specialised processed designs, construction management, testing and commissioning. Asia Outlook spoke to the current Operations Manager for M+W Thailand, Brian Doyle.
"The true M+W way"

Over the last two years, M+W Group have re-focussed the Thailand sector of the business, moving from a more localised trade towards targeting international clients in what Doyle calls the "true M+W way." Generally, Doyle has found that these clients will have a specialised engineering and construction requirement as he explains: "We have moved back into Thailand and have seen a significant growth in our revenue, specifically from American and European clients. We are beginning to feel the benefits of these investments from last 18 months at present."
M+W Thailand pride themselves on being a specialist provider in the high tech industry as Doyle highlights: "We provide our customers with a one-stop solution from concept design, right through to testing and commissioning." More often than not, the company fi nds that when it comes to specialised design construction requirements, they fi t the bill better than their competitors: "This is where M+W step in, because we have the solutions and answers to specialist construction, which other construction companies do not have."
Industry-wide Challenges

In the last year, the company have been most successful in making this transition to developing an international client base by securing and implementing profitable projects. "Over the last 12 months, we have been developing a more competitive service for our clients," cites Doyle. As a consequence of this, the M+W Thailand subsidiary have been able to continue to grow their Thailand operations, increasing their staff levels in this country by 40% over the last year. The Group as a whole currently boasts an impressive 7500 employees worldwide.
Recently, there has been an industry-wide challenge affecting construction business operations in Thailand, which is a consequence of a series of political tensions. "The result of this is that foreign investors are more reluctant to give the go-ahead on projects. However, we would like to stress that we are not seeing people withdraw their investments, business with these clients is just slowing down," Doyle emphasises.
It is a known fact that the construction industry is suffering from a shortage of skilled labour and staff, with an aging demographic and the lack of a younger workforce to take their place. "It is getting harder and harder to find engineers in particular that have a good qualification," says Doyle. "Most of our labour is made up of local domestic labour. A problem for us is that all contractors in Thailand look for labour in the same area, which makes it more difficult for everyone in the market to source good quality labour."
A Competitive Service

As with any business, securing a professional, reliable and well-trained workforce is a key part of being competitive. M+W Thailand like to make their own mark in securing local employees: "We use a mixture of expatriates and local staff , the idea being that we can have the expatriates train the local staff in the M+W way and teach them. We send staff to our centre of excellence in Singapore, where we can provide the relevant training, depending on their role within the company."
In recent years, the company has seen significant growth in the health and beauty, food and beverages and energy and environment sectors. "These sectors have good opportunities for us to offer our M+W expertise, we can leverage our existing international relationships to offer clients complete solutions to what they are looking for," Doyle comments.
Supply chain is always very important to M+W; in terms of securing local partners and subcontractors as Doyle states: "if we don't have strong relationships with these groups then we won't be competitive, if we are not competitive we are not going to secure projects." The company's global operations help significantly with international procurement in Thailand, where M+W are constantly developing their network of suppliers and local contractors to get the best quality and keep them competitive.
Doyle assured us that before anything else, M+W take safety and quality seriously: "We want all of our employees and others working on our projects to go home safely every day. A high number of the awards that we win are safety and quality related." Therefore, delivering projects in a safe manner and to a high quality are a key priority and the awards are a demonstration of the fact this value runs right through the company and their ethos.
Future projects

For the year 2014, M+W are looking at working with a number of repeat international clients who are looking at investment opportunities in Thailand. What's more, they are already in discussions with them about these projects, with a view to be their "one stop solution," as Doyle emphasises: "in other words, we want to be the company who provides their design, procurement, construction, testing and commissioning all the way through from start to finish."
With a clear target for the next year to focus on projects that Doyle believes will suit M+W's needs, and the client's needs simultaneously, the company's goal is to look at maintaining quality rather than quantity. An ongoing target is to secure quality staff that they can train and secure for the long term, in turn, developing their relationships with local partners and suppliers. "it's all about the long term; it's developing not just for today, but for tomorrow, the next year and further down the line," Doyle affirms "and one of the ways we make this happen is through listening to our customers. We understand what their needs and wants are, and we deliver this in a cost-effective and timely manner," Doyle signs off.
VIEW M&W Group BROCHURE