Backed by 60 years of Japanese technological know-how, i-PRO is a leading player in the smart security surveillance sphere. Gerard Fígols, President of i-PRO EMEA, addresses the rise of "AI-fication" and the company's first year of innovation.
GENERATION SMART SURVEILLANCE
Security technology has never been so important and is developing at a rapid rate, fuelled by a mixture of necessity and technological accessibility.
Surveillance in particular is becoming a key aspect of security, with urban centres requiring more complex monitoring to regulate growing populations. Facial recognition, vehicle movement mapping and other forms of identification have become (and will continue to be) an incredibly important part of society today and into the future, driven by artificial intelligence (AI) and machine learning (ML).
With an international footprint and an especially strong presence in the Asia-Pacific (APAC) region, i-PRO is a leading next-generation partner in intelligent surveillance and other technology solutions.
One year into operation, i-PRO is backed by edge devices, advanced image analysis technologies and AI. With a history of more than 60 years of technical innovation and pursuit of quality, a thorough "visualisation" of information has been achieved that previously could not have been grasped. Linking that information to its customers' workflows contributes to building a safe infrastructure in a variety of verticals, from manufacturing, financing, and medicine to retail, service, and public institutions.
"i-PRO is the legacy of Panasonic Security Systems, a division of Panasonic that was established in 1957," begins Gerard Fígols, President of i-PRO EMEA. "From the days of analogue reactive surveillance, a lot has changed, and with the help of AI today, we have moved from reactive to productive surveillance – an important milestone in the industry. i-PRO markets cameras in the medical space, such as those for microscopy and endoscopy, as well as industrial cameras, and in the security market we provide the world's most powerful security cameras.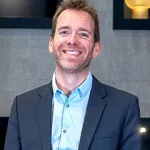 "We retain the reliability and high-quality nature of Panasonic products, yet bring to the fore AI-driven innovation and the critical flexibility needed to adapt to market demands."
i-PRO boasts the number one position in Japan, number three in Asia, and number six in the US, making it one of the leading players in a consistently growing security market that has increased 49 percent between 2020 and 2021, continuing at a high-speed trajectory.
It is the company's mission to bring its security systems to as widespread a customer base as possible, delivering the best quality products and support platforms.
"We have already established a swift two-to-three-day customer delivery service, and we are working with distribution partners to introduce 24-hour delivery," Fígols tells us.
"Our goal is to have 250 camera models available on the market by 2024, whilst providing free apps that support our products at no extra cost, so that we can provide an AI platform that everybody can use today, tomorrow and for the future."
AI-FICATION
Without a doubt, the COVID-19 pandemic played its part in impacting the security market bringing with it temporary stagnation. Yet, the tremendous market growth from 2020 onwards has proven the want and need for innovative and high-quality surveillance cameras.
Part of this growth includes the demand for "edge AI". Edge AI is the deployment of AI in devices and hardware in the physical world as opposed to a central cloud computing centre, applying its advantages to real-time motion and events. Edge AI utilises deep learning, a system based on artificial neural networks and a part of the broader ML sphere that is in turn a subset of AI.
"Deep learning means that the cameras are smart enough to start analysing and improving by themselves," Fígols details. "So, you can provide the camera's images, they in turn can learn from the data inside the images and keep improving themselves.
"There is a global move towards "AI-fication" in surveillance, where the market demand is shifting towards deep learning technology that involves smart learning and assessing."
In 2019, the security market was largely dominated by basic cameras with around 48 percent of the market share, rules-based cameras (those utilising basic AI recognition) at 37 percent, and with deep learning systems sitting at 15 percent.
In 2020, there was a change in numbers, with basic declining slightly to 43 percent, while deep learning rose significantly to 20 percent. However, in 2021, there was a dramatic shift; basic cameras fell to a meagre 15 percent, while rules-based systems boomed to a whopping 60 percent, and deep learning took a significant 25 percent of the market share.
This staggering change in the market proves the rising demand for smarter, better, longer-lasting and innovative security systems moving forwards, and a very promising future of security for i-PRO.
"Rules-based systems are rising, as are deep learning systems, and basic systems are almost disappearing. What we have seen so far from 2021 is that the market is really moving towards identification and smart learning," Fígols concludes. "i-PRO has the most powerful security cameras, they have advanced technology and are more reliable, based on know-how from more than 60 years of experience."