Grenof's Green Chlorine model allows for a more sustainable, safer and efficient chlorine supply in Australia. Managing Director, Scott Barnes, tells us more.
CHLORINE GOES GREEN
"Green Chlorine is an exciting new area of activity for Grenof, utilising world-beating chlor-alkali production technology to disrupt the Australian water industry."
Those are the upbeat words of Scott Barnes, Managing Director of Grenof, who is confident that this new hub-and-spoke model will change the future of chlorine supply in Australia.
Founded in 2014, Grenof focuses on providing innovative and proven technologies and solutions to the water, wastewater and renewables sectors in Australia, the latest of which comes in partnership with De Nora.
To support its Green Chlorine model, Grenof has collaborated with the Italian water technologies company to utilise their electrochemical chlorine generation system, CECHLO, enabling the production of Green Chlorine from smaller plants at a reduced cost compared to current chlorine unit purchase rates.
With over 400 installations worldwide and a plant lifespan of 50 years, CECHLO is a specially designed, high-performance system that yields high levels of chlorine and sodium hydroxide from low levels of required energy. Production costs are also lessened due to the system being fully automated, whilst CECHLO's robust, durable design requires minimal maintenance or operational intervention.
Green Chlorine plants can service customers both inside and outside the water industry, andprovide a genuine alternative option to the current centralised chlorine supply marketplace.
"The chlor-alkali chemicals sector in Australia is dominated by two major players, however, this provides smaller companies such as Grenof with an opportunity to disrupt the marketplace by applying different technologies and a different business model," outlines Barnes.
"Both large providers in Australia have very much centralised production facilities, so what we've done is apply a different way of thinking to disrupt the industry by decentralising production."
DECENTRALISED PRODUCTION
Through the construction of multiple smaller but more efficient plants that service their local region, the decentralised Green Chlorine model of collocated chlorine manufacturing facilities at water and sewage treatment plants reduces storage and freight costs and requirements.
Grenof's decentralised plants, complete with CECHLO technology, meet all chlor-alkali needs, including direct injection into the treatment plant, sodium hypochlorite production up to concentrations of 12.5 percent, chlorine bottled in all sizes, and sodium hydroxide production.
CECHLO is skid mounted and can be located on any site, including water or wastewater treatment facilities, allowing for direct injection if required, securing on-site supply and enabling the use of recycled water.
"The Green Chlorine model is not just about decentralisation, but also co-locating where there is available water and electricity," shares Barnes.
"Another advantage of the model is that we'll be using the recycled water from sewage treatment plants where water would normally be disposed of in the receiving waterway; we're going to be using that as a major input into chlorine production.
"We're hoping that the Green Chlorine model is going to be a wholesale disruption to the market, but it's not something that will be easily done," he continues.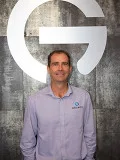 "The chlor-alkali chemicals sector in Australia is dominated by two major players, however, this provides smaller companies such as Grenof with an opportunity to disrupt the marketplace by applying different technologies and a different business model"

Scott Barnes, Managing Director, Grenof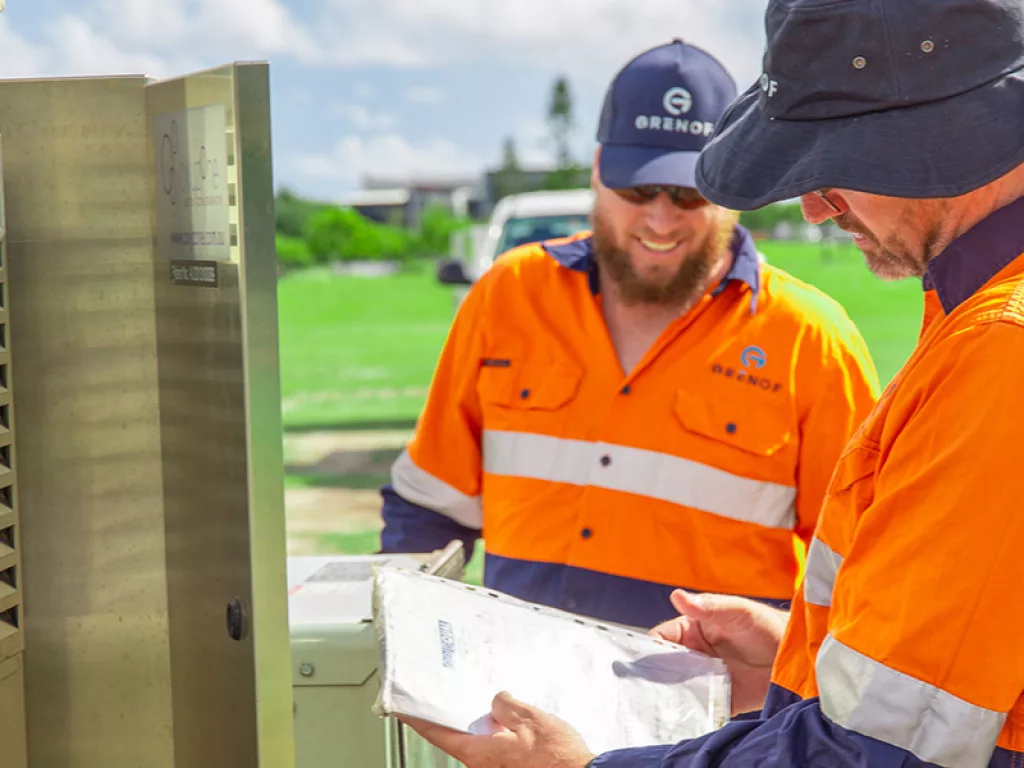 BRAND NEW DIVISION
Australia is the driest inhabited continent on the Earth, with access to less than one percent of the world's freshwater resources.
Grenof is therefore committed to solving the challenges faced by the water industry in the country, by providing environmentally friendly and sustainable solutions.
As evidenced by the company's newly formed green chlor-alkali division, Grenof is seizing the opportunity to partner with large utility groups and municipalities to build and construct Green Chlorine plants throughout Australia.
Strong demand is driving this opportunity, particularly in northern parts of Australia and overseas, with each plant having the potential to generate millions in revenue per annum.
By the end of 2023, Grenof expects to have multiple green chlor-alkali manufacturing facilities across the Pacific.
"Grenof is focused on effectively delivering multiple chlor-alkali production projects throughout Australia and the Pacific," confirms Barnes.
"This is in addition to establishing a permanent presence in Sydney with an office and production facility, whilst also concentrating on markets in other states where Grenof does not currently have significant market penetration."
Scheduled to open in February 2022, the Sydney facility will complement Grenof's pair of existing chemical manufacturing plants and four office locations in Brisbane, the Sunshine Coast and North Queensland.
"It's a significant milestone for Grenof due to the amount of work performed in New South Wales, and having enough critical mass in the region to justify the expense of a permanent facility," Barnes adds.
GENUINE GREEN SOLUTION
The Sydney facility will be dedicated to the production of Phodine, a speciality magnesium hydroxide liquid formulation and the company's signature product, used in the wastewater industry primarily for the purposes of sewer odour control and corrosion protection.
It does so by successfully preventing the formation of hydrogen sulphide gas, a major contributor to odour and corrosion within wastewater networks, extending the life of assets in the process.
Thus, Grenof not only specialises in the decentralised, cost-effective and sustainable production of chlorine, but also the manufacture, distribution and dosing of other specialist chemicals.
"From a sewage perspective, if you don't manage it properly it causes concrete cancer, so it destroys your infrastructure," explains Barnes.
"That's where our Phodine products really step up, because it's a genuine green solution compared to what has been used for the last 50 years to protect underground assets."
The manufacture of proprietary chemicals such as Phodine to improve water and wastewater quality comprises Grenof's chemical division, one of three core business divisions together with disinfection as well as services and solutions.
Grenof, who has recently won multiple tenders from major Australian water utilities, is delivering market-leading innovative and green technology solutions through these key divisions.
Complete with the further expansion into green chlor-alkalis, there are readily addressable growth opportunities for Grenof in both existing markets and the manufacture of green chlorine.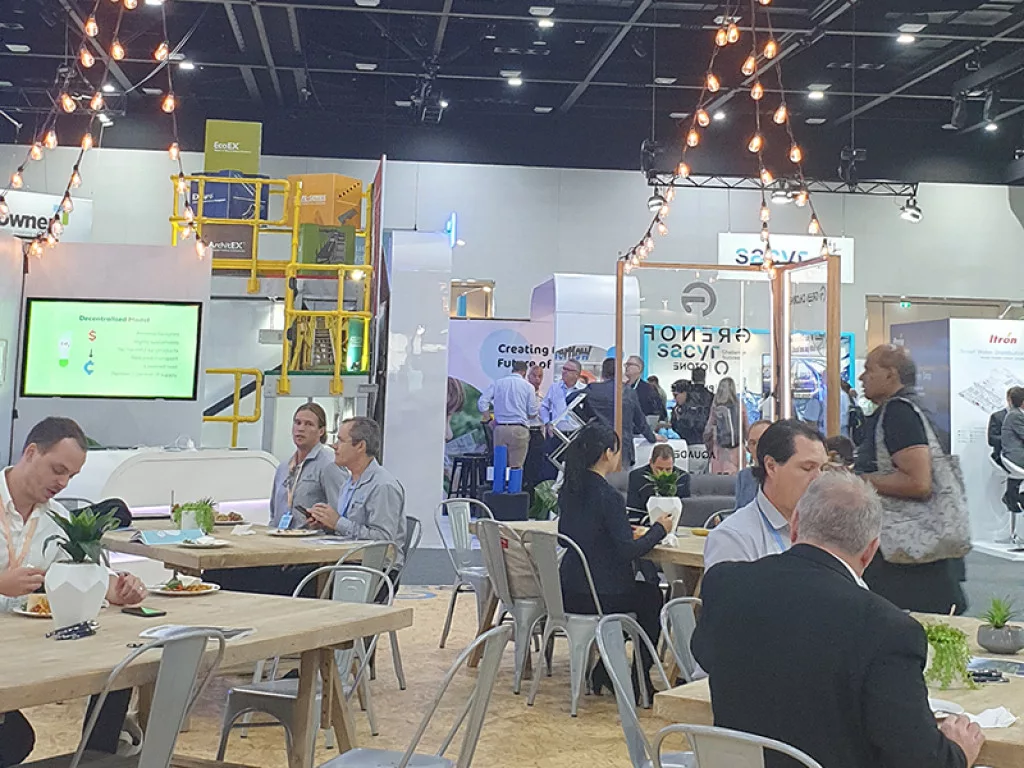 TALENTED TEAM
As demonstrated by Grenof's Green Chlorine model and Phodine endeavours, the company is built on being heavily customer focused, providing innovative, sustainable solutions and unique business models.
It also means that the experienced team of over 35 water professionals, engineers and technicians at Grenof understand the industry in which they work and are able to implement tailored solutions for the customer.
"Without our supremely talented and conscientious team, Grenof would not be in business," Barnes emphasises.
"Grenof invests significant funds and resources year on year to develop new and improved products and services. Listening to our clients, suppliers and partners is key to understanding their needs and helps to establish the company's overall business strategy and R&D investments."
It is Grenof's long-standing research and development partnerships with Australian universities that have also helped the company to provide proven and sustainable innovative technologies that improve efficiency.
The company even has its own graduate programme in which it has recruited science, business and accounting graduates, actively promoting from within and implementing incentive schemes for key team members.
Further, the COVID-19 pandemic has highlighted the importance of supply chain security to Grenof, especially when supplying essential service providers such as local councils and water utilities.
"Grenof places a huge amount of importance on strong supplier relationships to ensure a continuity of supply to our customers," says Barnes.
The water utility industry in Australia as a whole, meanwhile, is focused on digitisation and IoT sensors to gather information, allowing utilities to make prudent and efficient operations and asset management decisions that benefit consumers.
"In addition, the industry is focusing on sustainable outcomes through the implementation of circular economy initiatives; it is this emphasis on the circular economy that excites Grenofas it very much aligns with our company values."
As a green, sustainability-based company, Grenof is playing its part by cleaning up chlorine and disrupting the industry.