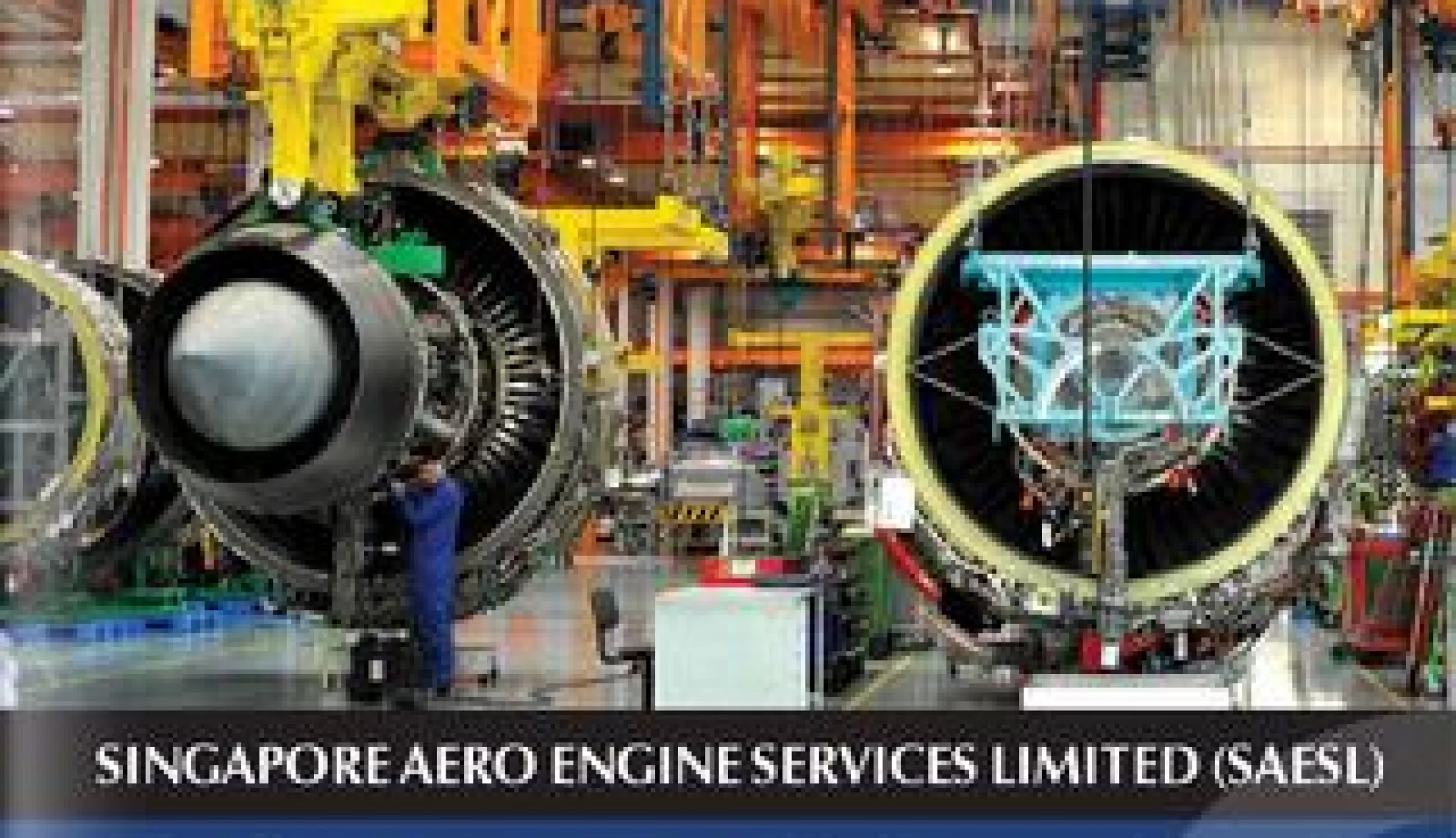 Expertise and Precision
Writer: Matthew Staff
Project Manager: Tom Cullum
For nearly 15 years, Singapore Aero Engine Services Limited (SAESL) has been one of the pioneering manufacturing companies in the region, cementing its position as Rolls-Royce's Trent Centre of Excellence to lay the foundations for an ever-increasing influence in the wider sector.
Specialising in the repair and overhaul of Rolls-Royce's Trent aero engine assortment – including the Trent 500, Trent 700, Trent 800 and Trent 900 for both Airbus and Boeing aircraft – the Company's growth is evidence enough of the operational excellence achieved since its inception in 2001; subsequently carrying out work on more than 2,000 engines for clients across three continents.
All told, SAESL's portfolio comprises operations alongside 15 globally notorious businesses, applying its highly reputed range of services which include not only engine overhauls, but also more specific component maintenance and repairs, engine testing and on-wing support through boroscoping and boroblending.
"Through its parent companies, SAESL combines the knowledge of Rolls-Royce, an original equipment manufacturer, with 20 years of overhaul experience of Hong-Kong Aero Engine Services Limited and Singapore Airlines Engineering Company," the Company explains. "SAESL has an innovative state-of-the-art, in-line gantry system that is capable of handling module change and module overhaul work…This gives us flexibility to manage our engine load.
"Our qualified and experienced overhaul support team provides 24-seven assistance to all our customers. Additionally, we offer advanced component repair capabilities and are the recognised Rolls-Royce Centre of Excellence for compressor blade repair amongst other high technology repair processes."
Leveraging expertise
As one of the world's most renowned and active manufacturers, the international cachet that comes with working alongside Rolls-Royce has gone a long way in facilitating SAESL's own development, both internally and externally.
Subsequently producing Trent Engines for a host of national airlines – including AirAsia, Air New Zealand, Air Transat, China Southern, Delta Airlines, Emirates, Etihad Airways, Garuda Indonesia, Malaysia Airlines, Middle East Airlines, Qantas, Qatar Airways, Singapore Airlines, Thai Airways, Virgin Atlantic and Yemenia Airways – the extent to which SAESL's engineering capabilities can be found continues to open further doors for the Company.
In 2015, one such door has opened in India with SAESL partnering with Tata Technologies to launch a Global Engineering Centre, designed to provide comprehensive services for equipment harmonisation, as well as an improvement in lean operations and turnaround times.
As part of the deal, Tata will help to enhance the internal processes that go into the complex manufacturing of Trent engines, paying special attention to tooling and manufacturing, engineering services, technology consulting and component repair; agreed upon under the GEC (Group Executive Council) model.
"Through the GEC model, we will be able to leverage Tata Technologies' expertise as an engineering partner and technology consultant, allowing us to further develop engine and component repair capability," SAESL Chief Executive Officer (CEO), Paul Inman was quoted as saying at the time of the announcement. "With our existing relationship, Tata Technologies has understood our requirements and is helping us meet demands while focusing on building quality and reducing costs."
Tata Technologies' Managing Director and CEO, Warren Harris added: "At Tata Technologies, we focus on working as a team with our partners to create exceptional products through improved engineering and design, and product development technology."
Strength to strength
With the backing of Rolls-Royce and more than 2,000 engines successfully engineered to varying requirements, SAESL's end product capabilities are undoubted, but this is not to say that the Company doesn't continue to refine its own manufacturing processes too, as epitomised by the recent Tata partnership.
Such a commitment to operational excellence is compounded by its up-skilling of employees, and general dedication to enhancing the talent pool within the sector and region.
Known and named as a 'Centre of Excellence', the training of employees is key to ensure that the end products do remain equally excellent, and the sustainability of this approach has recently been addressed by another pivotal initiative being undertaken alongside Rolls-Royce.
Supported by International Component Overhaul and Singapore Airlines – as well as European logistics specialists, Kuehne + Nagel – Rolls Royce and SAESL are highlighting the importance of STEM subjects (science, technology, engineering and maths) in an attempt to encourage students into the aerospace and manufacturing sector in years to come.
Ultimately, the Trent 1000 school tour hopes to reach as many as six million people by 2020 through a range of programmes, aided by Rolls Royce's business partners, to ensure that the currently flourishing industry in Singapore continues to thrive in the future.
"SAESL understands that it is our people who made what SAESL is today," the Company states in relation to its continued support of individual development. "We celebrate its success with various company events, which foster stronger working relationships amongst ourselves. Through team work, we continue to go from strength to strength."
The SAESL Sports and Recreation Committee further emphasises this ethos, fostering a positive atmosphere, indicative of what is required to be a vibrant and entrepreneurial business.
"We work hard and play hard," the Company affirms.
Quality and safety
The creation of proactive and mutually beneficial relationships is also seen throughout SAESL's supply chain, having worked alongside local partners for the best part of two decades in some cases.
Stability in areas such as this provide the ideal platform to be flexible and proactive in others, especially regarding the ongoing investments that are required to keep ahead of the industry curve, and in line with Rolls-Royce's globally competitive demands.
At the beginning of 2015, a new test pod was purchased to this end – a joint venture with Rolls Royce – while SAESL is also planning to move into laser repair in order to improve efficiencies by as much as 80 percent.
All in all, being stagnant or reactive is not an option, and a further $90 million has been spent in recent months to increase building capacities; investing in a new facility capable of holding more than 300 engines.
From a product perspective, there is also a host of new engines in the process of being added to the portfolio, which could give SAESL its most significant rise in business for years.
All of this is underpinned by the Company's commitment to expertise and precision; a philosophy which demands nothing less that optimum processes, optimum manufacturing equipment, and optimum management systems in place.
"Quality and safety are primary considerations for all operations undertaken by SAESL at all times," the Company notes. "Evident by our Airworthiness approvals and other certifications attained, the integrity of our customers' engines and components are of the highest priority.
"To this end, we have an established quality and safety management systems that ensure that our customers' needs are fully met, while complying with all regulatory and legal requirements."
Servicing the best
Glancing back at the continuous improvement of SAESL, significant milestones are evident in 2009 and 2013 through the extension of its original facility and the construction of its own new engine test centre, respectively.
The latest partnerships alongside Tata and Rolls Royce, accompanied by the Company's capital expenditures and internal advancements, will add 2015 to this list of landmark periods, as it continues to strive to be the best, in order to serve the best.
"SAESL has grown significantly over the years and with a reputation for service excellence and a strongly established customer base, we are well positioned in the Asia-Pacific region for continued growth through the reliable and effective repair, maintenance and overhaul of Rolls-Royce Trent engines," the Company says. "We are committed to servicing the best by the best."
An ethos of servicing the best also incorporates a concerted effort in surrounding communities as part of its corporate social responsibility efforts, adding a further string to SAESL's bow and ensuring that it has all the facets required within the Company, to be the manufacturer that the wider industry continues to put its faith in.
SAESL adds: "With more than a decade of operational history, SAESL has established a culture of quality and safety that is embraced by all our employees, from the top management down to our competent workforce.
"This culture is nurtured through various training and awareness programmes, fostering an atmosphere of open reporting and prompt feedback between the leadership and the team, who form the backbone of SAESL's core competencies."
VIEW Singapore Aero Engine Services Limited (SAESL) BROCHURE