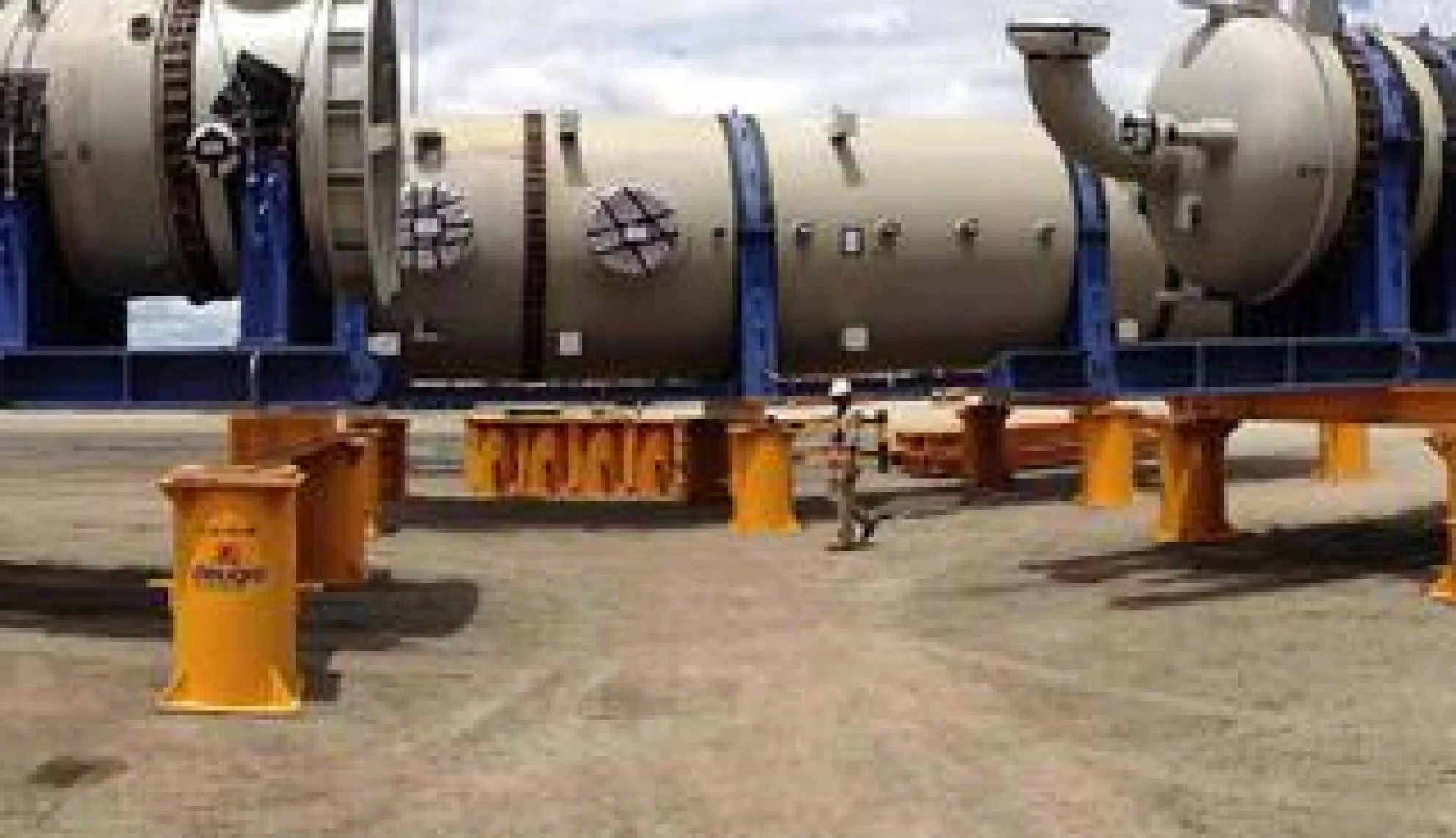 Continued expansion in Asia for deugro
Asia Outlook talks to Sven Hergemoeller, deugro's Regional Vice President for Southeast Asia.
Writer Ian Armitage

Project manager James Mitchell
Founded in Germany in 1924, the deugro Group is one of the world's leading project freight forwarding companies and has completed complicated turnkey logistics contracts on almost every continent.
deugro is historically known for project logistics, specialising in turnkey projects and complicated cargo moves to and from major industrial sectors. It is also active in international freight services such as sea freight and airfreight.
"We are a global leader in our niche of project logistics and freight forwarding," says Sven Hergemoeller, deugro's Regional Vice President for Southeast Asia. "deugro is a truly global presence but significantly we remain a privately held, family organisation in the third generation. We are highly specialised offering a diversified portfolio of services to a variety of clients located in every corner of the globe. Our company slogan is "Minds over Matter" and our strength and competitive advantage lies in our people – they are our most valuable resource. This, and close working relationships with our clients, distinguishes us from our competitors and provides a platform for future growth, flexibility and superior service."
He says deugro takes "the best minds to make the right moves."
"Our philosophy is to get the best people in the industry. Our people really do make the difference." deugro has enjoyed substantial growth over the last year and it aims to continue to expand its core business in existing and new markets.
"The last 12 months were actually fantastic for us," says Hergemoeller. "Unconsolidated, we exceeded our sales as budgeted by 20 percent, which is substantial, and our net profit before tax was also exceeded. The group turnover in 2012 was in excess of 600 million euros and we employ today about 1,000 people in more than 60 strategically located global offices. We execute mega projects for oil and gas, power generation and renewables as well as mining and a new business vertical: pharmaceuticals. Pharmaceuticals are an important market for us in Singapore as the local government wants to attract more science and technology industries. The group remains strong and we have substantial resources to operate effectively and expand further.
"We are very active in Southeast Asia, the Middle East, Russia and North/South America and have been involved in some of the largest projects ever constructed in Columbia, South Africa, New Caledonia and Papua New Guinea, which are still ongoing. The challenge there is to make it all work and to the satisfaction of the client, of course."
According to Hergemoeller, around the world, decision making is becoming decentralised.
Clients are making local decisions and such offices are largely autonomous.
"That is a challenge for us. In the past the headquarters of a global client were always in charge but these days are over and today their regional and local set-ups act very independently."
deugro has achieved preferred freight forwarder status with numerous clients around the world and has invested heavily in QHSES, compliance, IT and transport engineering, amongst other support functions.
"It is important to invest in such things as clients require an ever higher level of service and standards of compliance, business ethics, quality, health safety and environment at the lowest possible cost or even for "free", which seems contradictory," says Hergemoeller. "For compliance and QHSES, it's not just phrases or buzzwords – these are things that must be lived by and ingrained into the company culture and management commitments, rules, regulations and processes. It must be tangible and measurable and with a permanent focus to improve the systems further. "The challenge is to manage these added costs, which is easier for a family enterprise like deugro than it is for an industry giant."
This represents an opportunity for deugro. "The big forwarders and logistics provider are allrounders with no strategic long term approach to the project logistics and project markets. There is always a lot of hire and fire going on and this is not good. Smaller specialised project forwarders and logistics providers still maintain a good quality but they often cannot comply entirely with QHSEs, compliance, IT and many other requirements imposed by the clients. Therefore we see great opportunities to grow deugro's business and stay strong in the market.
"We will remain focused, and we will also strategically build our own network. We comply with the clients high level requirements and therefore we are and will continue to be successful in the future. "In Asia you need extensive market knowledge and clients want 24/7 availability from our people and they demand very competitive pricing at highest level of service. In light of project related business in this part of the world, they require a solid and qualified transport engineering support. We employ transport engineers in Singapore who work in accordance with our corporate engineering standards and globally we have a number of competent support engineering centres. They are located in Germany (HQ), Russia, North America, India, Japan, Singapore and Australia."
Hergemoeller says that a "strong focus" will remain on improving services using technology and training in the region, while managing costs.
"In terms of expansion, it is our policy not to reveal these plans until they have been put into place and then it is published on our website. However, we will further invest into transport equipment," he explains. "These are very special and top of the line trailers to carry wind turbines. These trailers are located in China and South Africa. Africa is a target market for deugro, in general; we will grow more in this challenging market."
Many are eyeing Myanmar as an attractive destination. "With regards to Myanmar/Burma, and having said the above, I will comment that I was recently in the country with a colleague – a senior member of our management team – and we have employed a new country head for Myanmar and are currently busy to get our company registered. We will focus on construction materials, plant and equipment with an eye on Oil and Gas as the country is rich in natural resources.
"We will also grow more in Indonesia. We have been a long time in this country and are currently beefing up our structure. We employ senior foreign talent to support our local operations and to further coach and guide. Indonesia is with no doubt a true emerging market.
"China too is a growth market and we have just recently opened a new office in ChongQing. We now operate with five offices, located in Beijing, Shanghai, Qingdao, Shenzhen and now ChongQing." This is an extremely exciting time for deugro and Hergemoeller is sure that has a positive effect on staff.
"If I look back since I began with deugro, we have had a very successful decade. Part of this was also in Asia and experienced by myself – and who would not want to be part of a group that continues to improve its products and has been growing in its field.
"It feeds back to our "can do" attitude as expressed by the "Minds over Matter" motto: We have the best minds and people in the business and this makes the deugro difference. Also we benefit from being a family business. We of course have a well-established hierarchy, but with access to the CEO and owner, sometimes you can quickly resolve matters that would probably take days and months in other organisations and this give us a competitive advantage.
"Our aim going forward is to keep the best minds and not lose qualified people to the competition, while hiring the right human resources as we expand. We also have a desire to be involved in projects sooner to be able to have the time to properly prepare and research the best and cost effective transport solutions, also involving our transport engineering and risk management at a very early stage. Of course, we want more business. There is no magic formula and we will, as always, remain focused and determined.
"What's our secret? That's a simple answer: people, people, people. Our loyal people who work for the company."
deugro (Singapore) Pte. Ltd. was recently awarded a turnkey logistics and freight forwarding contract for a neodymium-based performance butadiene rubber plant in Singapore.
Once completed in 2015 the plant on Jurong Island will be the largest of its kind in the world and will serve the growing market for "Green Tires", especially in Asia.
"Major equipment will be coming from Germany and India," says Hergemoeller. The new award is a follow up project of a successful completed job executed in 2012.
"We are excited by growth prospects in the region and around the world," Hergemoeller concludes.
To learn more visit www.deugro.com.
VIEW Deugro BROCHURE