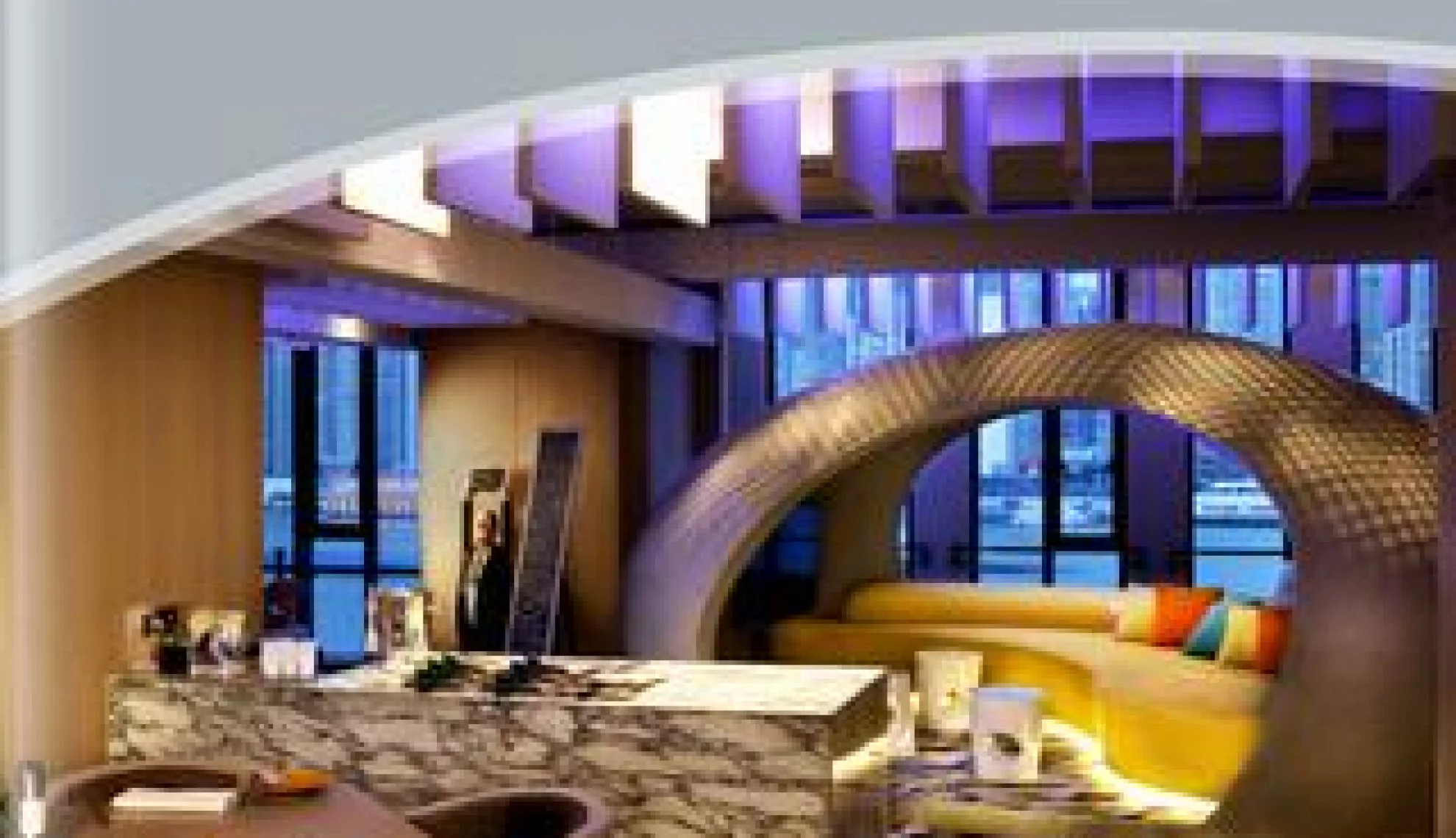 Illuminate Lighting Design has perfected its ability to manipulate and alter spatial elements in order to create exceptional layers of lighting
Writer: Phoebe Calver
Project Manager: Tom Cullum
Over the years, Illuminate Lighting Design has been extremely fortunate to share projects with innovative developers, architects and designers who are renowned in the industry for pushing boundaries; working with such visionaries in the industry has always pushed Illuminate to evolve as project demands increase.
Through constantly educating itself and staying relevant in the industry via the crosspollination of ideas that emerge from work with manufacturers, trade shows, clients and designers, the Company is retaining its place at the top of the industry.
"Explaining the design process for lighting is particularly difficult to clarify to clients," explains Simon Berry, Partner at Illuminate Lighting Design. "During our concept phase, we have to use the latest up-to-date techniques to portray our idea and intent – it is critical and the first time the client will see something visually engaging towards the project."
The Company has grown through incredible technological advancements in the industry, at the time Berry started Illuminate, the creative process involved tracing and expressing the lighting using a yellow highlighting pen; now various software is used with the ability represent the lighting throughout the different times of the day.
"These advancements haven't altered our philosophies in any way and I have always believed that first we have to listen before we can understand the needs," explains Berry. "We remain respectful of the original design at all times and work in a collaborative team structure.
"I began Illuminate in 2009 in Singapore predominantly focusing on hospitality projects and interiors in the region – since that point the Company has grown exponentially; to date we have eight studios with the latest addition in Jakarta, Indonesia."
In part this growth is a reflection of the increase in popularity and awareness of lighting design, however it also comes down to experience on large-scale projects with design.
For Illuminate, it is ever increasingly not about the amount of light fixtures the Company can fit to a ceiling, but instead finding ways to seamlessly design lighting that integrates with the surroundings – using the best possible design to tell a cohesive story.
Growth potential
As a relatively young Company, Illuminate still has a lot of growth potential in terms of both the size of the Company and the projects that it works on.
"Historically, we tend to design for luxury hospitality projects, however, we have actually began to branch out to light-up mixed developments," continues Berry. "These include resorts, Islands, residential and office projects, we will usually join the project once the architect or designers are about to finalise their design concept stage."
One of the first projects completed by Illuminate was Hotel Indigo at the Bund in Shanghai, with each Indigo hotel carrying a unique story; the Company was able to expose the historical context of Shanghai.
"We worked closely with the interior team, clients and operators in order to make their vision come to fruition," berry describes. "These close collaborations resulted in many integrated lighting features that are woven into the fabric of these interiors – an achievement that we are very proud of."
This project was particularly successful for the Company and stemming from that, Illuminate has built a strong and continuing relationship with the operator IHG; many years later having the honour to work with them again on the first Hotel Indigo in Southeast Asia in Bangkok.
Memorable projects
Another particularly iconic project undertaken by Illuminate was the Nuo Hotel in Beijing, in which the team undertook numerous brainstorm sessions in order to successfully meet the brief.
"I remember the day I was shown the lobby ceiling drawing – the ceiling had geometric skylight pockets that formed a huge triangle," Berry recounts. "We needed to ensure that we would avoid submitting a black hole in the lobby ceiling at night, eventually coming up with a playful idea to feed videos with LED mesh that could be projected onto stretched membranes.
"Just imagine, during the day you would be looking at falling cherry blossoms, while stood inside a cavernous and almost museum-style space."
It is this sort of surreal experience that the Company is becoming renowned for creating through its lighting designs, and it was particularly iconic as NUO was the pioneer Chinese hospitality brand that Beijing Tourism Group created and has vast ambitions for; at Illuminate, working on this project in Beijing was a once in a lifetime opportunity.
Another particularly iconic and memorable project for the Company was the Shangri-La Resort and Spa at Hambantota that opened last year in Sri Lanka; one of its first comprehensive lighting projects that included interior, exterior and landscape lighting requirements.
"It was a project that we had to treat with great sensitivity and sincerity, due to its abundance of nature and secluded placement, we had the opportunity to specifically define the night vista, which we thought over with great care," Berry adds. "From the moment guests enter the facility, the lighting is set to present avenues for discovery and exploration, leading the way and staging the environment for the visitors, a process that we thoroughly enjoyed."
Integrated design teams
The Company now has eight offices, with five located in Asia – namely Singapore, New Delhi, Shanghai, Hong Kong and Jakarta and when it comes to identifying new projects, countries with ambitious development plans – such as Indonesia and India – are always particularly interesting. Having local offices in place to help co-ordinate projects locally are especially important and useful.
With that, the staff hired to fill these positions are incredibly important and without doubt a firm pillar of any good company, therefore when considering new hires, it needs to be ensured that they will fit well within the current structure.
"Our design teams need to integrate well together, in order to promote the feeling that they can discuss and propose options to explore when working on a project," Berry describes. "For this to happen our employees really need to become one of the family – skills can be taught but attitudes are particularly difficult to change.
"Retention of our staff is of course very important to us, and it is important to ensure that the individual feels rewarded and challenged in the workplace."
With a solid body of work in hospitality, its staff set Illuminate apart from its competition, due to the fact that it is finely attuned to the way in which people behave and how they interact with the environment.
"To a certain extent, we don't limit ourselves to see light purely for its performance value, we delight in the emotional aspects of light and the way in which it brings joy to a surrounding," concludes Berry. "I hope in the future we will be able to undertake more public space projects, looking to achieve more collaborative and integrate work that will reach out to other designers."
VIEW Illuminate Lighting Design BROCHURE