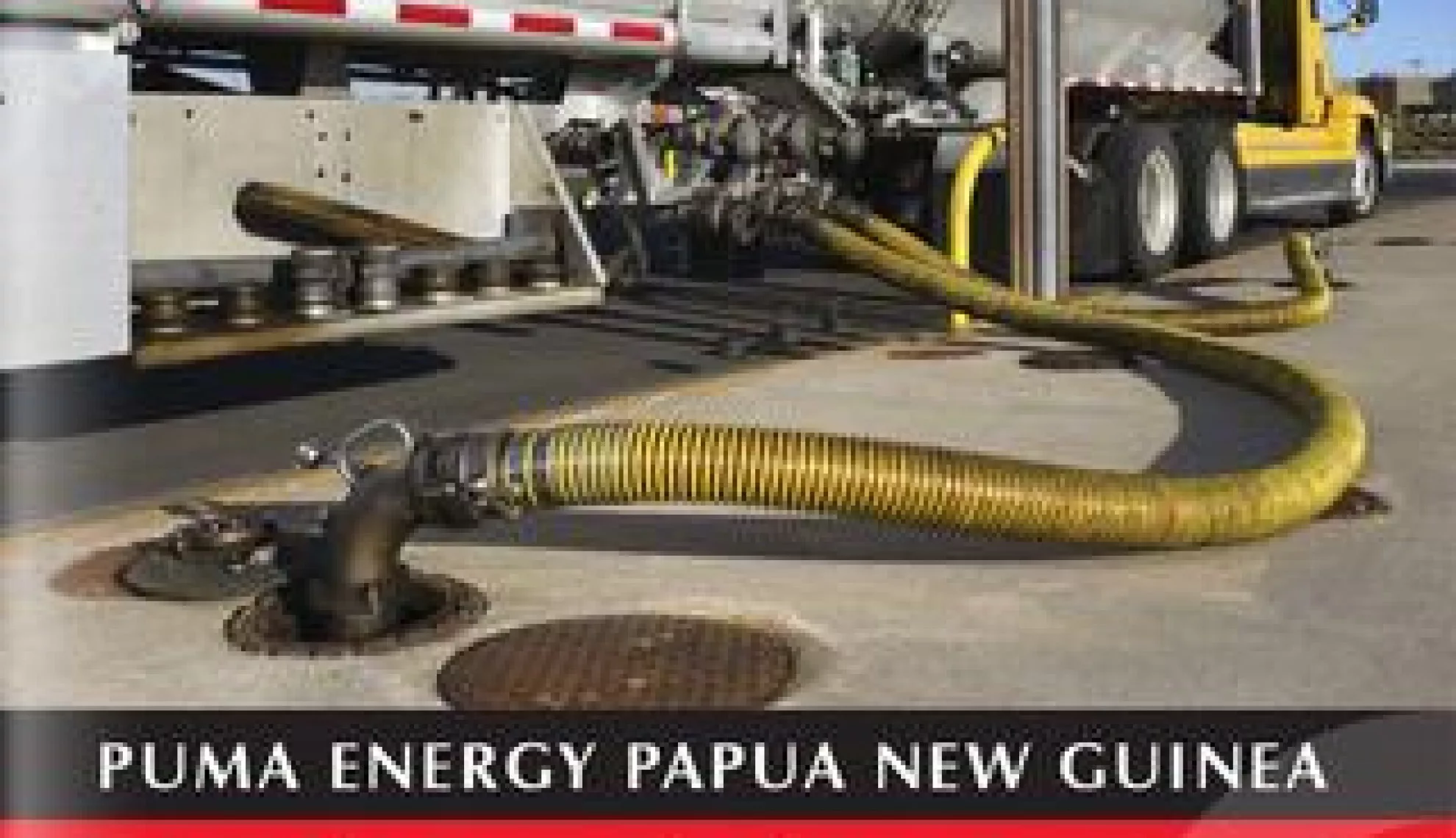 Answering Demand in a Fast-Growing Market
Writer: Emily Jarvis
Project Manager: Eddie Clinton
Demonstrating the resiliency of its business model during the oil price slump, global integrated midstream and downstream Company, Puma Energy Holdings is keen to reinvest its strong profits back into the business to fund the Group's continued expansion across key locations worldwide; including Papua New Guinea (PNG), South Africa, Colombia, Peru and the UK.
After making inroads into Papua New Guinea in mid-2014 through the acquisition of InterOil Corporation's oil refinery, service stations and fuel terminals for US£525.6 million, Puma Energy is now able to tap into its extensive knowledge of fuel, storage, distribution and refining to identify new growth opportunities and integrate the country's fuel offering into the wider Group operations. With the venture establishing Puma Energy as the largest entity in downstream petroleum distribution in Papua New Guinea, the Company is proud to now have more than 50 retail sites – both branded and independent – as well as 11 storage coastal terminals, 11 airports and a storage capacity of more than 480,000 metres cubed.
Pierre Eladari, Puma Energy's Chief Executive Officer (CEO) commented: "We have been impressed by InterOil's business, its strategic asset base, its customer portfolio and the quality of its management and people. There are many parallels between our global businesses and that of InterOil's; in particular the importance of expertise in logistics, guaranteeing a reliable and secure supply of high quality fuels to our customers."
With the new operation complementing the existing Puma Energy global strategy of "disciplined investing in fast-growing markets where there is a high demand for oil products", the Company is also placing a concerted emphasis on the Papua New Guinea investment as an opportunity to improve local infrastructure and to provide security of supply in remote areas. Retaining the existing InterOil staff, Puma Energy has plans to follow in its predecessor's footsteps and drive local content and employment.
InterOil acquisition
With Papua New Guinea fast becoming one of the most prosperous – yet challenging – terrains for the production of liquefied national gas (LNG), since the InterOil acquisition, Puma Energy has spent the past two years investing further into the region to bolster future growth.
With the aim to transform the existing operations into a major petroleum hub for the Asia-Pacific region, Puma Energy's refurbishment of the Napa Napa refinery in Port Moresby, and the expansion of service stations and fuel storage capacity across Papua New Guinea are ongoing; complemented by significant investment into the local communities to aid job creation, skills development and ultimately support Papua New Guinea's economic growth.
"Puma Energy has always committed and invested wholeheartedly into the communities in which we operate, said Puma Energy Chief Operating Officer, Asia Pacific and Middle East, Rob Jones. "By upgrading the infrastructure we will turn the business into a major petroleum hub for the Asia-Pacific region which will bring many important opportunities to Papua New Guinea. We are also helping to build Papua New Guinea's economic sustainability with our graduate recruitment programme, by ensuring employees are given world-class training, and developing local service stations as state-of-the-art facilities."
Jones said the new branding put in place in November, 2014 was the start of an extensive programme to bring better facilities and service standards to Puma Energy's fuel terminals, retail service stations and aviation capabilities in Papua New Guinea. He explained: "Under our expansion and improvement programme, Puma Energy will bring new services to Papua New Guinea, such as bitumen, bunkering and LPG. We will also be bringing our leading global health, safety and environmental initiatives and programmes to all our operations in Papua New Guinea, which are cornerstones of Puma Energy's global culture."
Continuous improvement
With regards to the refinery upgrades, the Company wanted to invest in measures that created a more modern and flexible refinery, capable of processing all domestic crude oil and condensate. By enhancing Napa Napa to manage a wider range of feedstock and recovering more gasoil and gasoline with less fuel oil production – while maintaining a sustainable capacity of 42,000 bbls a day, an increase from the previous capacity of 28,000 bbls a day – Puma Energy hopes to not only improve operational sustainability, but contribute more of the natural wealth of the country back into the economy.
Moreover, there are also plans to install 10MW of gas turbine electricity production to capture the gas currently wasted by the refinery, in addition to the proposed additional tankage and introduction of bitumen and bottled LPG.
"This will bring significant benefits to the country including improved self-sufficiency of supply, and an increase in the number of days of stock held in the country, as well as fostering the creation of value-add services with positive fiscal implications," the Company summarised.
A welcome challenge
Puma Energy's strategic move into Papua New Guinea has provided the Group with the perfect opportunity to draw on its already extensive knowledge base and dynamism to deploy its proven business model in a new and challenging terrain. Having added a further 86,000m3 of storage capacity in 2015 through the expansion of the pre-existing refinery terminal, the Papua New Guinea operation is already having a positive impact on the Group's overall sales growth performance.
Commenting on these results, Pierre Eladari, CEO, said: "In a difficult macro-economic environment, Puma Energy's stable strategy, proven business model and strong sales volume growth places us amongst the best-performing majors, confirming our status as an industry leader… Furthermore, we are encouraged by the outlook for mid-to-long term opportunities, retaining our disciplined focus on infrastructure and growth markets.
"In 2015, we entered five countries via strategic acquisition and organic construction, made significant increases to our storage capacity, added 400 service stations, and created long-term job opportunities in high-value markets. In addition, I am confident that Puma Energy is looking at an improved performance in 2016."
Aligning with the Group-wide mission to become a one-stop fuel and lubricant solution provider, Puma Energy is looking towards the future of its operations in Papua New Guinea with the target to prove itself once again as an attractive and confident player in the oil & gas industry.
Eladari concluded: "We believe strongly in Papua New Guinea and its future growth prospects, and see many opportunities for continued investment in infrastructure and in the skills of our employees to build upon the historic success of InterOil's business, and to position Papua New Guinea as a strategic hub within our regional portfolio. This investment marks an important step in the execution of our regional strategy and offers considerable synergy with our developments in Australia and the broader Pacific region."
About Puma Energy Holdings Pte
Puma Energy is a global integrated midstream and downstream oil Company active in more than 45 countries. Formed in 1997 in Central America, Puma Energy has since expanded its activities worldwide, achieving rapid growth, diversification and product line development. Headquartered in Singapore, it has regional hubs in Johannesburg, South Africa, San Juan, Puerto Rico, Brisbane, Australia and Tallinn, Estonia.
Puma Energy's global asset base includes 84 primary terminals that are strategically located, bringing security of supply to its 23,500 business-to-business customers and 215 million retail customers. "The Puma Energy business model enables our growing team of energy professionals to consistently deliver a dynamic performance in markets with growth potential to our customers. To maintain trust from our key stakeholders, we continue to prioritise ongoing dialogue with our communities and we work hard to minimise any adverse effects from our operations," the Company noted.
VIEW Puma Energy Papua New Guinea BROCHURE